Overview of the Valuable Conversations training
The purpose of this page is to provide an overview of the Valuable Conversations for reducing the impact of alcohol use in child-bearing years training (the Training).

The content chronology here mirrors that of the Training to help you easily locate information or resource links you may be looking for. 
Reflective practice
In counselling, the aim of reflective practice is to discover our own experiential knowledge:
knowledge gained from reflection-ON-action; the ability to think about something you have done e.g. within supervision
knowledge gained from reflection-IN-action; the ability to think about, modify, test, and remodify what you are doing when you're doing it.
Service providers who consistently practice self-reflection and self-awareness appear to be able to manage complex clients who might otherwise trigger negative reactions in the worker.
Links to useful reflective practice resources:
Fetal Alcohol Spectrum Disorder (FASD) overview
Fetal Alcohol Spectrum Disorder (FASD) is caused by Prenatal Alcohol Exposure (PAE).
The placenta doesn't provide a barrier against PAE.
The impact of PAE is difficult to predict and can be lifelong.
A national FASD diagnostic criteria was published in 2016 and requires a multidisciplinary team; it is a time intensive process. 
Shaming someone about their alcohol use (whether they are pregnant or not) stops engagement for behaviour change and/or accessing support. 
Over the last 20 years our understanding of PAE and FASD has grown. Accordingly, the National Health and Medical Research Council (2020) most recent recommendations are: 
a. women who are pregnant or planning a pregnancy should not drink alcohol; 
b. for women who are breastfeeding, not drinking alcohol is safest for their baby. 
Links to useful FASD resources:  
Trauma Informed Care and Practice (TICP)
Trauma is the result of any experience that overwhelms a person and can render them helpless (van der Kolk, 2019). According to Poole (2013), becoming a trauma-informed service starts with acknowledging:
The high prevalence of trauma.
That trauma can impact on a person's psychological and neurobiological development.
People do the best they know how in order to survive; these adaptations are functional.
Trauma, substance use, mental health and physical health problems are interrelated.
Being trauma informed affects all aspects of service delivery and applies to all staff - not just clinicians. 
Must be embedded in policies, procedures and practice. 
TICP principles: 
Safety - Throughout the organisation, the clients and staff should feel physically and psychologically safe; the physical setting is safe and interpersonal interactions promote a sense of safety.
Trustworthiness and transparency - Organisational operations and decisions are conducted with transparency and the goal of building and maintaining trust among everyone involved with the organisation, including clients. This involves creating clear expectations about what treatments will involve, who will provide services, and how care will be delivered.
Voice and choice - The organisation aims to strengthen the experience of choice for the client. It recognises every person's experience is unique and requires an individualised approach.
Collaboration and mutuality - There is true partnering between staff and clients (to help 'level out' power differences), and staff recognise that healing can happen through relationships in: meaningful sharing of power; decision-making; and treatment planning.
Empowerment - The individual strengths of the client are recognised, built on, and validated. New skills are developed as needed. Strengths are used to empower the client in the development of their treatment.
Cultural, historical, gender issues - The organisation incorporates policies, protocols, and processes that are responsive to the racial, ethnic, and cultural needs of individuals served, that are gender responsive, and that incorporate a focus on historical trauma. It may also require an understanding of cultural security; including appropriate gender/roles of staff and clients.
In the area of FASD, implementing these principles into practice can begin with trauma informed language around alcohol use and women, whether they are pregnant, planning a pregnancy or past pregnancies (see FASD Language Guide link below).
Links to useful TICP resources:
Motivational Interviewing (MI)
People can feel ambivalent (in two minds) about a behaviour they think may be harmful. They may also be aware of both positive and negative aspects of what they're doing.

MI is a counselling intervention where a service provider uses a client-centred, empathic approach to support a person to discover and voice their own reasons for why they should change their behaviour.

The service provider's role in MI is to create a non-judgemental conversation in which their client can explore their own ambivalence. Consider using the Spirit of MI or CAPE:
Compassion – to actively promote your client's welfare and give priority to their needs.
Acceptance – honouring and respecting each client's autonomy; seeking to acknowledge their strengths and efforts. Acceptance does not mean approval.
Partnership – an active collaboration between experts, acknowledging that your clients are the undisputed experts on themselves.
Evocation – your clients already have within them much of what they need to make changes; choose a strengths-focused rather than deficit-focused approach.

The Righting Reflex is the service provider's desire to fix what seems wrong with the client and to put them on a better course. Without reflective practice, the Righting Reflex can get in the way of practicing CAPE.
Remember to use the following micro-counselling skills (OARS):
Open-ended questions are brief questions that produce IN DEPTH answers. This invites partnership and collaboration.
Affirmation by acknowledging clients' strengths or action; many clients are failed self-changers who may feel demoralised or at least doubtful that change is possible. Affirmations are sincere and usually offered sparingly.
Reflections are client-centred with a focus of listening to and understanding the client's dilemma. The primary goal should be to see the situation from the client's perspective.
Summariesare a form of reflective listening and are useful to:

communicate your interest in the client's experience/situation
build rapport
focus on important parts of the discussion
shift attention/direction.
Use them frequently; but be mindful that too much information can be difficult for the client to work through.
Tips for providing clients with information and advice in a MI-consistent way: 
Ask for permission to provide your client with information or advice; honour their autonomy.
Offer the information.
Ask the client how the information has been received; for example, "How does that fit with your experience/life?"
Link to useful MI resource: 
Prevention Institute (2017) Motivational Interviewing: Discussing alcohol use with a pregnant woman
FASD prevention
The Australian FASD Strategic Action Plan is designed to guide the prevention, diagnosis, support and management of FASD in the Australian community. In particular, the objectives listed below are identified to prevent FASD:
reducing the access and consumption in the Australian community 
increasing community knowledge and awareness about the harms and consequences of drinking during pregnancy or when planning a pregnancy. 
Building service provider confidence and competency around asking all clients of childbearing age about alcohol use is the primary focus of the Valuable Conversations training.
Additionally, Poole's Holistic framework for FASD prevention (2008) offers a beneficial guide for identifying and understanding FASD prevention at different levels within a community. It illustrates how FASD prevention can be undertaken by numerous service providers.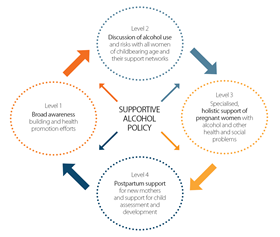 Holistic framework for FASD prevention (2008)
Implementing FASD prevention activities across all levels within Poole's model can be easier using a planning template, like the one developed as part of the Valuable Conversations. 
A slide template was developed to support you in sharing information from The Training with your colleagues and/or community. For a customised presentation or to organise receive assistance in your preparation to share this information and review a slide or the entire presentation with you if needed. Please contact dionne.aitken@mhc.wa.gov.au if you would like either of these options.
Links to useful FASD prevention campaigns and resources:
Alcohol. Think Again
Australian Indigenous Health InfoNet (2021)
Department of Health
State Library Drug Information 
Women and Newborn Drug and Alcohol Service (WANDAS):
Valuable Conversations
Brief Interventions (BI)
BI have proven to be effective in a wide range of settings in relation to a wide range of health-related behaviours such as: smoking; taking medication; alcohol use; and exercise. They have also been found to be useful when working with pregnant clients in reducing their alcohol consumption, especially in combination with a motivational interviewing approach.
The AUDIT-C is a screening tool that assesses the risk of harm based on alcohol consumption and can be beneficial when working to support clients of childbearing age or who are pregnant.
Having an understanding of the Australian Standard Drinks Guide can be an educational tool for clients and strengthen service provider confidence in using the Audit-C. Try out our Standard drink tool.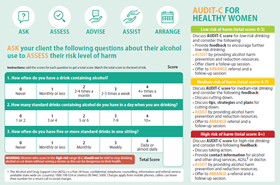 Healthy Audit - C for women
The AUDIT-C cannot determine the risk of harm from alcohol exposure to a fetus. When working with a pregnant client, the Five As is a useful model for guiding service providers on conducting a BI for reducing alcohol related harm:
Ask all clients of childbearing age about their alcohol use (honour their right to say no)
Assess their level of alcohol using the AUDIT-C.
Advise all clients that when a person is pregnant or planning a pregnancy should not drink alcohol; for those who are breastfeeding, not drinking alcohol is safest for their baby.
Assist clients to reach their health goals through information, counselling, care, motivational interviewing.
Arrange appropriate referrals.
The On Track booklet is an information and record keeping resource. It's designed to help your clients when/if they are thinking about changing their alcohol use and is available in the following formats:
Pocketsize booklet - this A6 booklet can be mailed out (max.20). You can send your request to dionne.aitken@mhc.wa.gov.au 
Printable double-sided worksheets - this is a simplified A4 version of the Tracking Changes and Weekly Reflections and Goal resources from within the booklet. Download it here. 
Printable booklet - this version of the booklet prints out on A4 sheets and provides a larger font and graphics. Download it here.
More information on how to get the most out of On Track can be found in this tutorial.
Links to useful BI resources:
Mental Health Commission (2022) Valuable conversations
Page last updated30 June 2023